The Domaine du Parc Olympique
This case study examines the successful completion of the Domaine du Parc Olympique condo swimming pool and spa renovation project in Montreal (Quebec) by Soucy Aquatik, an aquatic design and construction company. The project involved a comprehensive commercial pool renovation and construction process to upgrade an aging and leaking facility in a residential high-rise condo building.
Soucy Aquatik provided a range of services from initial inspection from our engineers followed by detailed recommendations, commercial swimming pool design consultation to final pool and spa construction. The scope of work included the demolition and disposal of the existing pool and spa, including the ceramics and the whole deck. Also supplying and installing the membrane, rebar and concrete work and a new mechanical system, featuring a new lighting system. All while overcoming numerous challenges, such as unexpected concrete demolition requirements, managing construction activities in an occupied building, and adapting to the client's evolving scope of work. Soucy Aquatik's expertise, adaptability, and effective coordination with the client, who acted as general contractor (GC), ensured the project's success.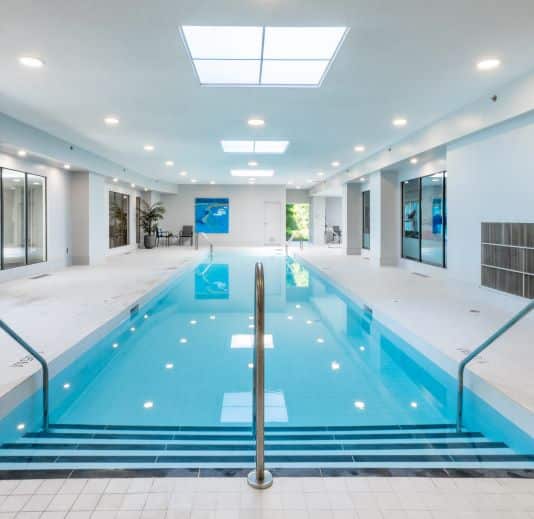 Challenges
The Domaine du Parc Olympique commercial pool construction and spa project presented several challenges that required careful planning and innovative solutions. Firstly, the initial demolition phase encountered unexpected obstacles, as the team anticipated demolishing four inches of concrete but found significantly more. However, as we were involved in the construction process, we promptly noted the impact unplanned demolition work would have and adjusted our approach to reflect the new reality.
Demolition :
One of the primary challenges during the demolition phase was the presence of residents in the building. It was crucial to manage noise levels and ensure cleanliness to minimize disruptions and maintain resident satisfaction. To address this, we implemented measures such as using Hilti products with vacuum attachments to prevent dust from entering vents, thereby mitigating disturbances caused by construction activities.
Staffing :
Another significant challenge was the shortage of staff, which led to delays in the work schedule. Despite this setback, our team worked diligently to overcome the shortage and ensure progress. However, juggling between keeping the residents happy, maintaining a clean worksite, managing noise levels, adhering to allowed working hours, and concurrently managing other jobsites proved to be a complex task.
Property Age :
The project faced commercial swimming pool design and construction issues inherent to the age of the facility. The advantage of Soucy Aquatik's comprehensive involvement allowed us to offer continuous feedback and make necessary adjustments throughout the design and construction phases.
Additional Work :
The project scope continuously expanded due to the client's requests for additional work. This required seamless coordination with other subcontractors and adjusting the original schedule to accommodate these changes. The project transformed from a condo swimming pool renovation to a complete construction endeavor as we had to redo inlets, drains, and even the spa area due to unforeseen complications and the client's evolving requirements.
How Our Services Helped
Soucy Aquatik played a critical role in the successful completion of the Domaine du Parc Olympique project. Acting as a consultant to the GC, our project manager maintained constant communication, promptly addressing any queries or concerns. This close collaboration facilitated effective problem-solving and ensured the project progressed smoothly.
Our estimation team worked hand in hand with the client to provide options for add-ons, enabling informed decision-making. By providing detailed recommendations, we empowered the client to make the best choices for their project while considering budget and feasibility.
Also, our team skillfully managed the complexities of scheduling, coordinating with other subcontractors to accommodate changes in the project scope. Despite delays caused by the extended demolition and staff shortage, we endeavored to keep the work on track while maintaining a high level of quality.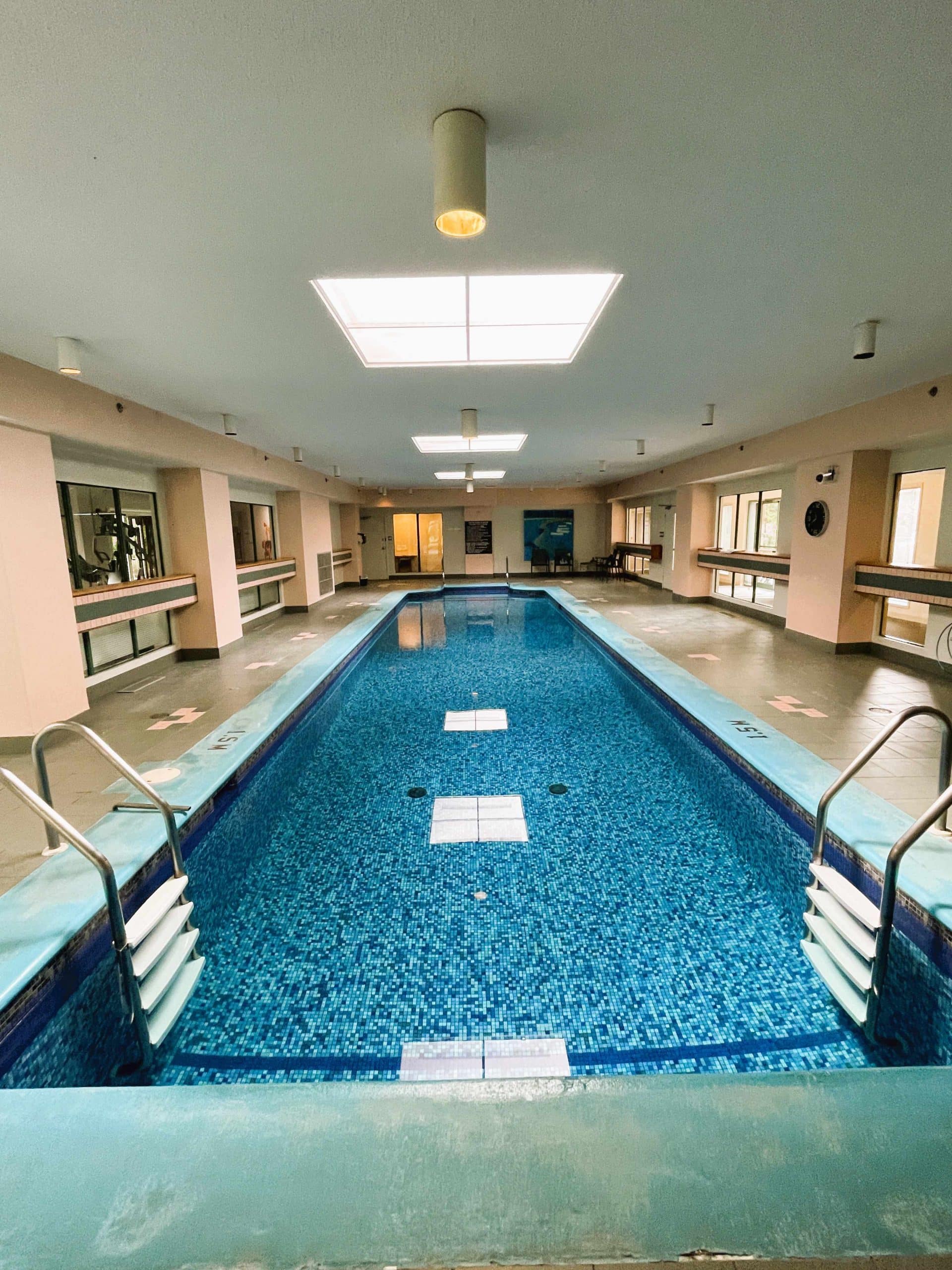 Before Soucy Aquatik
In terms of the commercial swimming pool construction, Soucy Aquatik's expertise in aquatic design allowed us to navigate unforeseen challenges. Our client knew what they wanted and was meticulous about having a long-lasting product. Soucy Aquatik was able to achieve those desired results. We successfully incorporated old and new equipment, ensuring compliance with regulations while maximizing efficiency and sustainability.
Despite unexpected concrete demolition requirements, managing construction activities in an occupied building, and adapting to an evolving scope of work, Soucy Aquatik displayed adaptability and professionalism throughout. By providing expertise, innovative solutions, and continuous feedback, our company ensured the project met the client's expectations and delivered a revitalized condo swimming pool and spa facility.
The Domaine du Parc Olympique project stands as a testament to Soucy Aquatik's commitment to excellence in aquatic design and construction, reinforcing its reputation as a trusted industry leader.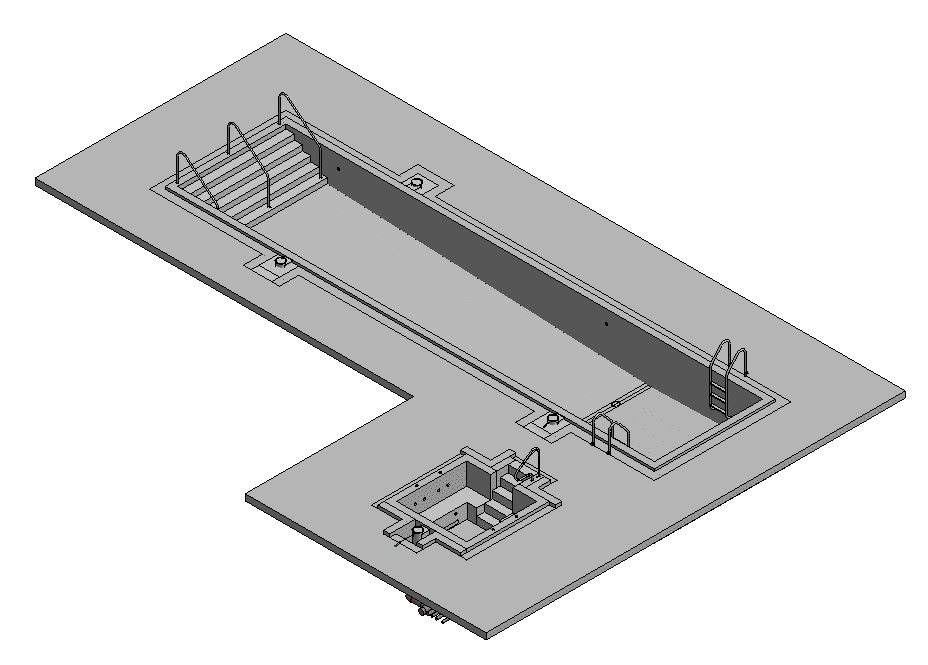 Pool and spa (view 1)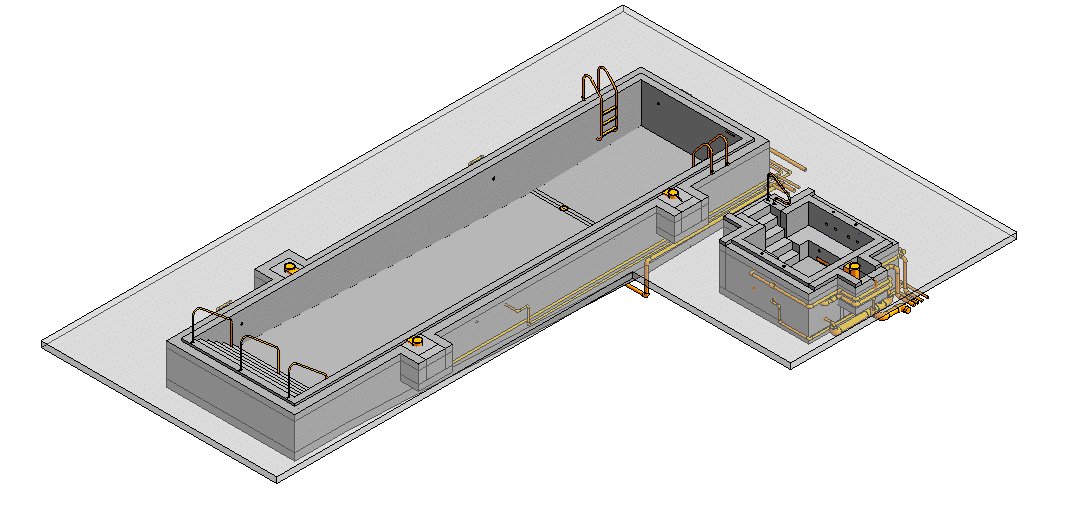 Pool and spa (view 2)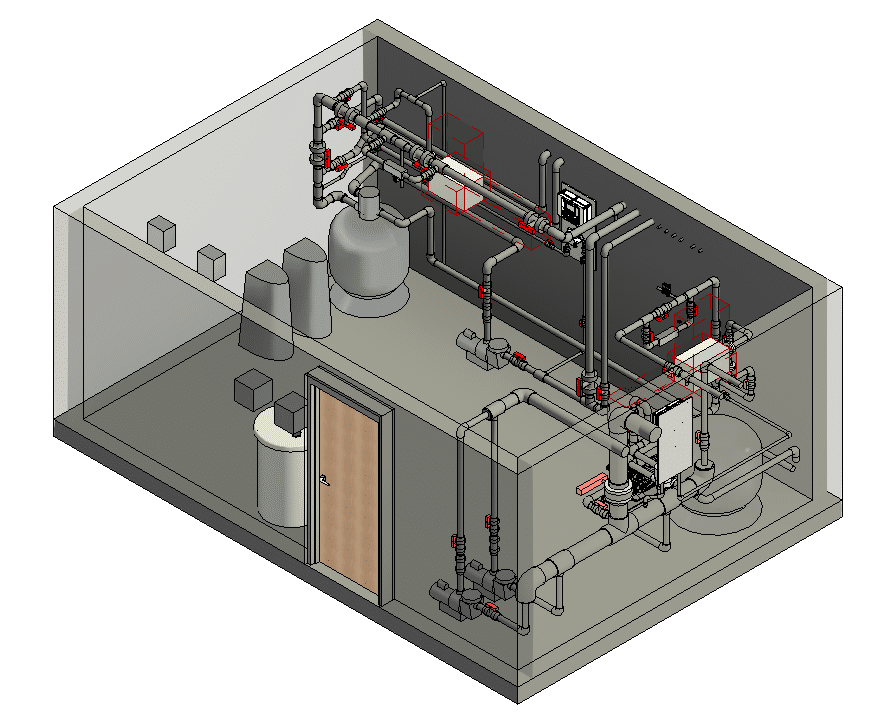 Pool and spa – mechanical room
Conclusion
The Domaine du Parc Olympique condo swimming pool and spa project exemplified Soucy Aquatik's ability to overcome various challenges and deliver exceptional results. The tenants of the building were as undisturbed as possible while construction was in motion. The company's comprehensive range of services, close collaboration with the GC, and effective coordination with subcontractors played a pivotal role in the project's success.
''At the conclusion of our project, we would like to express our gratitude for the exceptional support we received from Soucy Aquatik. Their professionalism, kindness and meticulousness were remarkable throughout the renovation process, which was at the time very demanding.
I would like to extend a special thank you to Pierre-Luc Laperrière (site foreman during the demolition), whose hard work, perseverance, and attention to detail were truly appreciated. I would also like to warmly thank Pierre-Luc Nault (project manager) for his attentive listening, valuable advice, availability, and reliability.
Congratulations on the excellent work you have accomplished. I wish Soucy Aquatik great success in their future endeavours. You have truly transformed our pool into a real gem that we are incredibly proud of!''
– Sylvie Lukawenko
Building and Grounds Technical Services Manager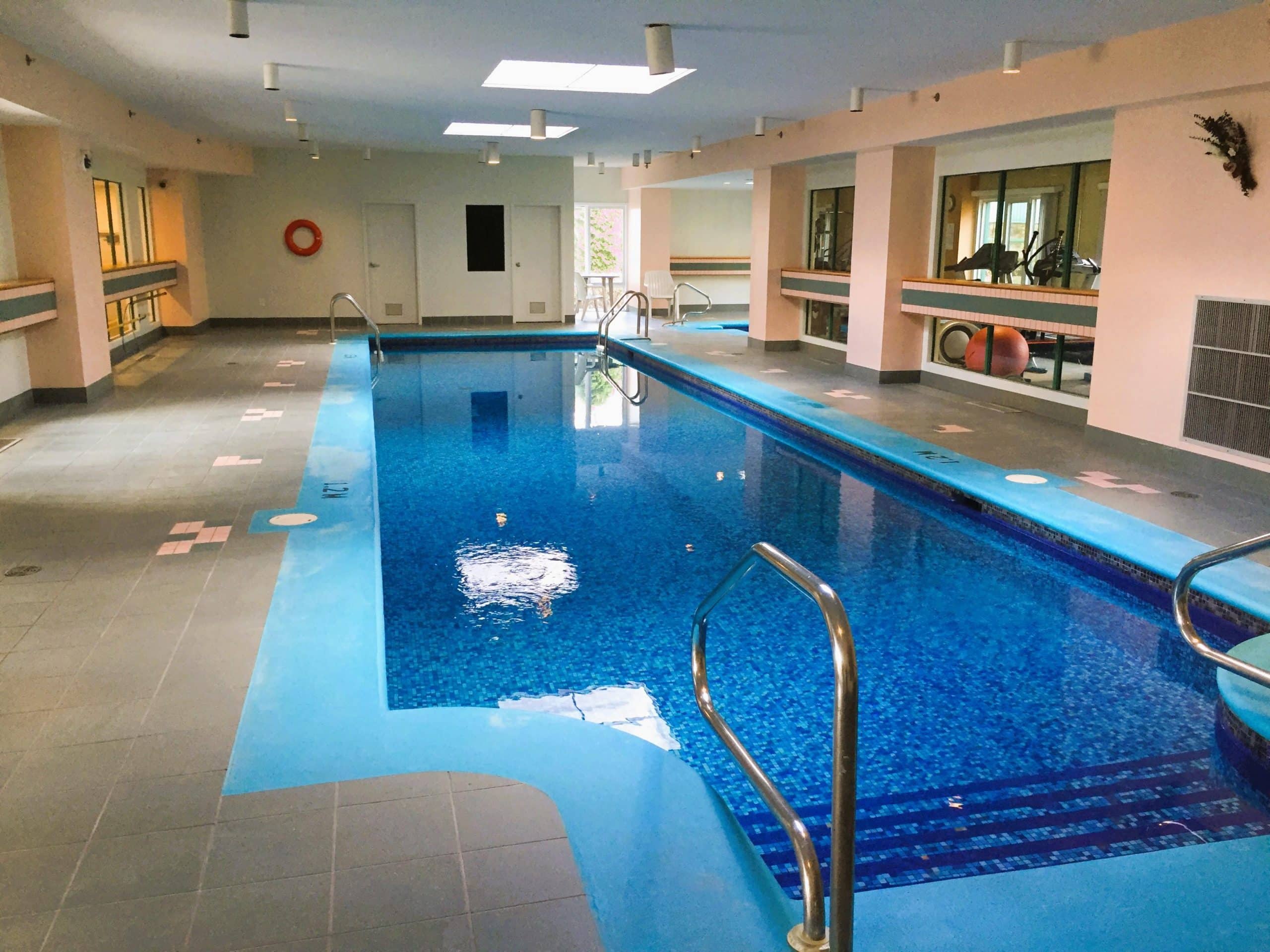 Before Soucy Aquatik
Need support to design or build your pool or spa?
Our aquatic experts and engineers are ready to collaborate with you on your project.