Imagine, Design and Build
Dedicated to building beautiful water architecture, Soucy Aquatik is the top aquatic construction company in Canada.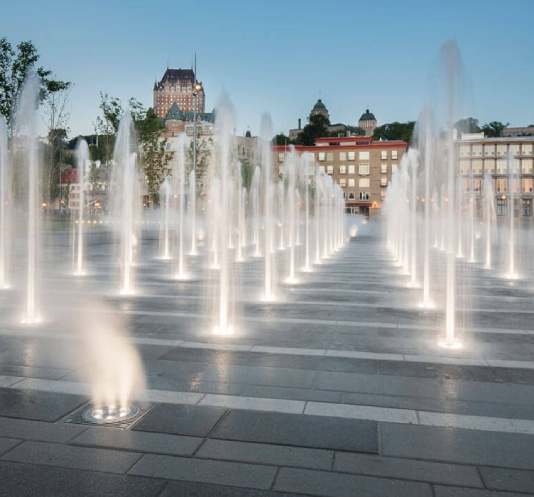 Our Company
We offer a full range of services and a high level of expertise in water feature design, feasibility studies, construction, project management and professional assistance as aquatic consultants to general contractors, architects and engineers. We can also act as a contractor or subcontractor for construction and have our own specialized workforce. In addition to construction and renovation of aquatic features, Soucy Aquatik offers engineering services. The design services offered include: filtration systems (mechanical), water recirculation for water features, fountain mechanics, water jet systems, water treatment and various analyses related to water feature work. Soucy Aquatik can provide stamped and sealed drawings in the provinces of British Columbia, Alberta, Ontario and Quebec. We have our own team of specialized engineers in-house who are members of the OIQ and some engineers are also members of APEGA (Alberta), EGBC (British Columbia) and PEO (Ontario).
Soucy Aquatik is dedicated to the realization of sustainable, creative and environmentally friendly aquatic projects. Water is our planet's greatest resource and we take pride in ensuring that the right equipment is selected, while enhancing the beauty of the water.  Our team of experts strive to provide quality projects that use the least amount of water possible without losing functionality and elegance.
Our water feature expertise also includes water recirculation systems to reduce water waste.  We are able to integrate systems that use rainwater to fill the balance tank or fountain tank.  The new water will then be treated and filtered.  We are committed to responsible water use and to aquatic projects that will last for many years.