Water Design Architecture: How to Start Incorporating Water in Your Architectural Project
As a landscape architect, you're likely always on the hunt for innovative features you can incorporate into your designs. Your secret weapon may be something that's already all around and in you: water. Water is simple yet powerful and it can contribute to a wide variety of aesthetics. While so many design fads come and go, water is truly a timeless classic. Here are some water design architecture ideas to get your creative juices flowing so your next project can be a show stopping success.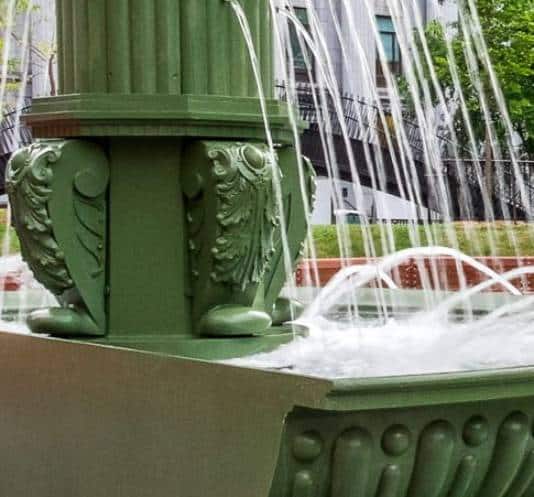 Special Considerations for Aquatic Landscape Design
Water features are unique because they're more than just an aesthetic choice. They add movement and sound to a space, making them a crucial contributor to the atmosphere. Fountains will also attract birds and even butterflies which can make any outdoor space even more enjoyable to be in. Because of this, you'll need to follow some guidelines when thinking of how to design a water feature.
There's a good reason that babbling brooks and rainfall are common noise machine sounds. Few things are more relaxing than the sound of running water, but water features may produce anything from a gentle, almost undetectable babble to a powerful, booming flow.
Think about your desired noise level in the space you're designing. The pressure of the water and the drop distance (the length the water has to travel before striking a surface) can adjust the level of noise and thus make the water feature operate as loudly or as quietly as you'd like. Water features can also create a barrier to other sounds in your environment such as nearby traffic.
You also want to think about the placement of your water feature. Be mindful placing them too close to trees since fallen leaves, bird droppings, and insects can contaminate the water or even clog up the filtration system.
Download our Free Water Feature Design and Ideas Guide
Our engineers have created a document filled with design ideas and technical details for water features to help create your next commercial architectural fountain project. We have grouped together some of our projects that have lasted for years.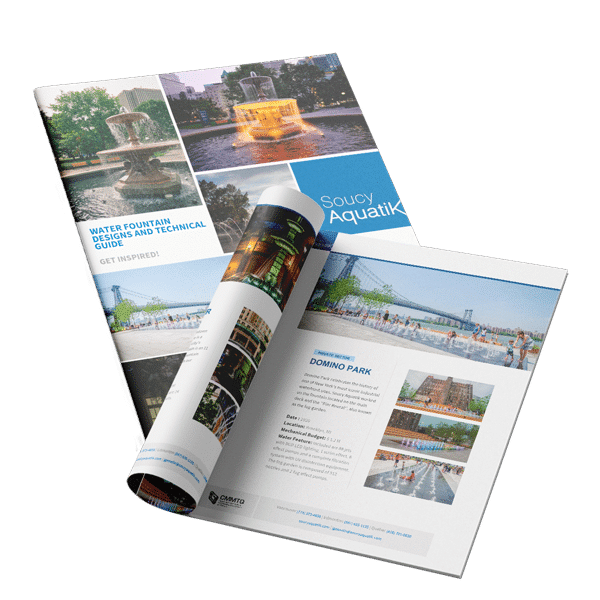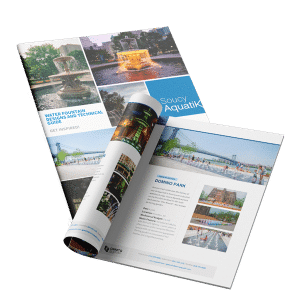 Water Features That Inspire
A fountain is perhaps the most classic way to add a splash to your design, although it is far from the only way to add water to your design. Architectural fountains are known for creating a sense of tranquility wherever they're placed. Even if you know you want an architectural fountain in your design, these features are so versatile that you'll find there are practically endless possibilities!
Fountains come in so many shapes, sizes, styles, and even colors to complement any space. A water feature like an architectural fountain can be the focal point of the design or blend seamlessly into the background if you'd prefer it to be an understated element of the design. These are a few specific aquatic landscape designs you can draw inspiration from.
Dorchester Square Fountain: Architectural Water Feature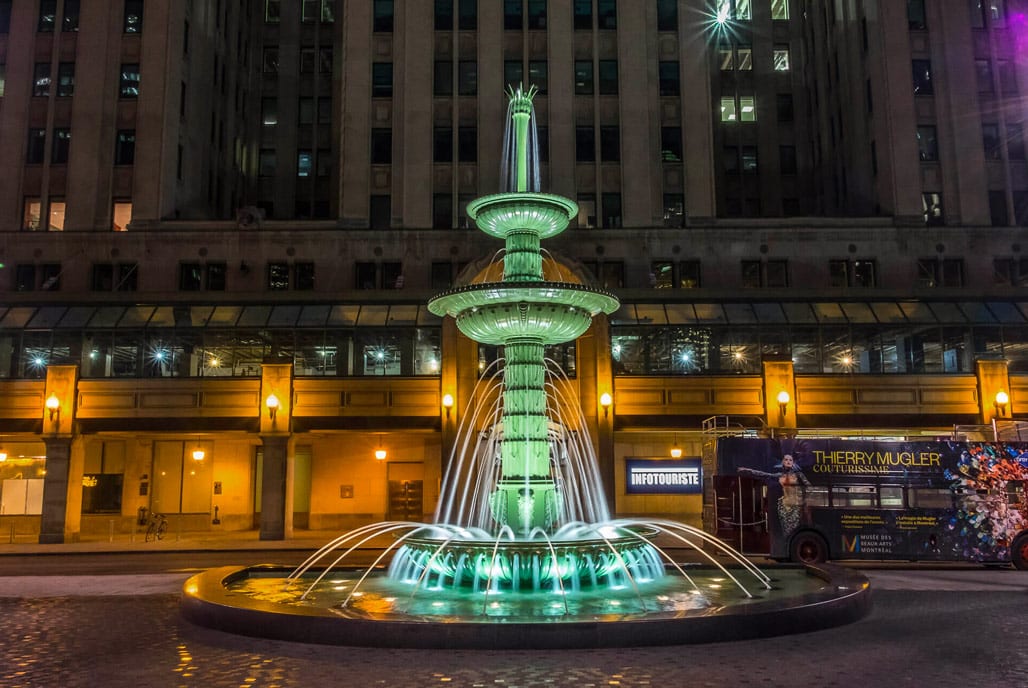 This courtyard-style fountain is probably what you're accustomed to thinking of when you consider adding a water fountain to a design. It's a Victorian-style fountain that's highly ornamental and a towering 10 meters tall! Each basin of this structure is a semi-circle. Because one side is completely flat, it's asymmetrical which is a departure from the norm. Another fun twist is this water feature is adorned by the likeness of a woodpecker.
Place du Flambeau: Commercial Water Feature
If your design is anything but minimalistic, you may want the flamboyance that something like this fountain at Place du Flambeau. While the water element may seem pretty standard as far as the water jets, the surprise comes to light at night—literally! When the sun goes down, you can clearly see the RGB LED light display in many shades of neon. Incorporating color and water together in your design is a great way to do something unexpected and add a whole new layer of intrigue to an otherwise bland design. This is an interesting contrast to the typical natural aesthetic we tend to associate with water features.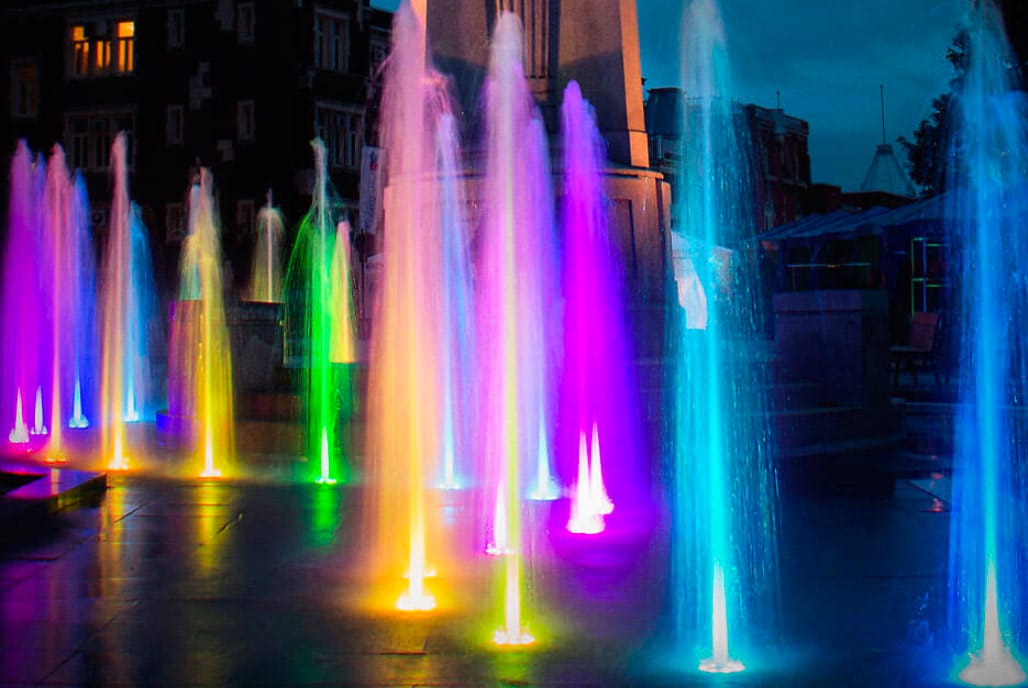 Calgary Airport Water Wall: Architectural Water Feature
If you want to see an example of a more subtle water design architecture, visit the Calgary Airport where you'll find a gorgeous wall fountain. This design is great if you don't have much room to spare on the ground. A wall fountain adds stunning intrigue to a space without taking up additional space.
This specific feature sets a tone for the airport, making travel-bound guests instantly feel more serene before they make their getaways. It's a juxtaposition to the bustling activity all around. It's the perfect addition to a modern aesthetic and makes heads turn and pause to take in the beauty.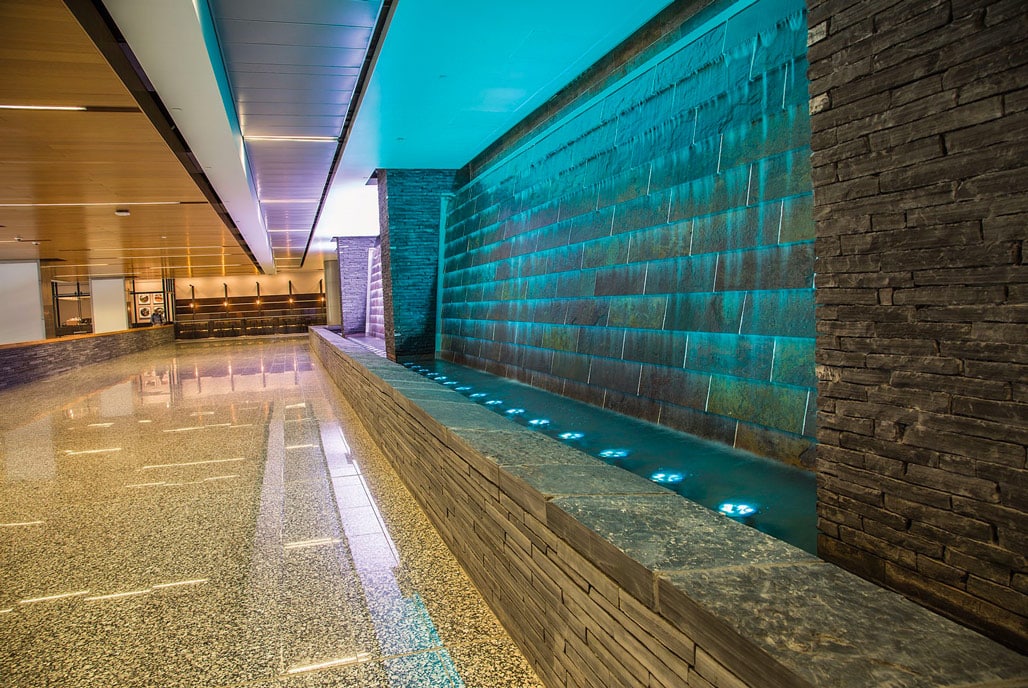 Martin-Pecheur Park: Innovative Architectural Fountain
This courtyard fountain is a work of art! The fish that are incorporated into the design and a hint of color make this structure at Martin-Pecheur Park a more playful option for an architectural fountain. The design draws from the surrounding nature so it accentuates rather than detracts from the environment's natural beauty. The design proves you don't need a lot of space to make a big statement!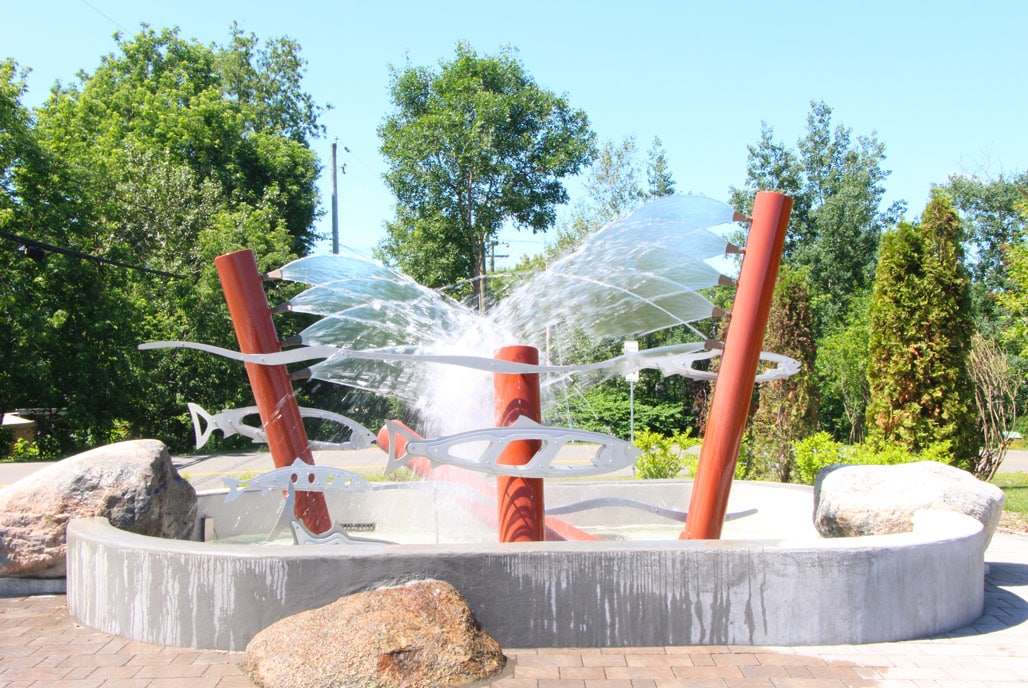 Fog Pavers™
Another way you can put an innovative spin on your design plans is by incorporating Fog Pavers™. Not only does this exciting feature look great, but it also instantly adds a bit of fun to whatever public space it's in. Watching kids and even some adults run through one of these gorgeous water features never gets old!
Fog Pavers™ aren't just a one-size-fits-all water design. They can be customized to fit whatever your design might be! You can tailor them to your unique design for endless possibilities. No matter what, Fog Pavers™ are surprisingly low-maintenance, easy to care for, and environmentally-friendly.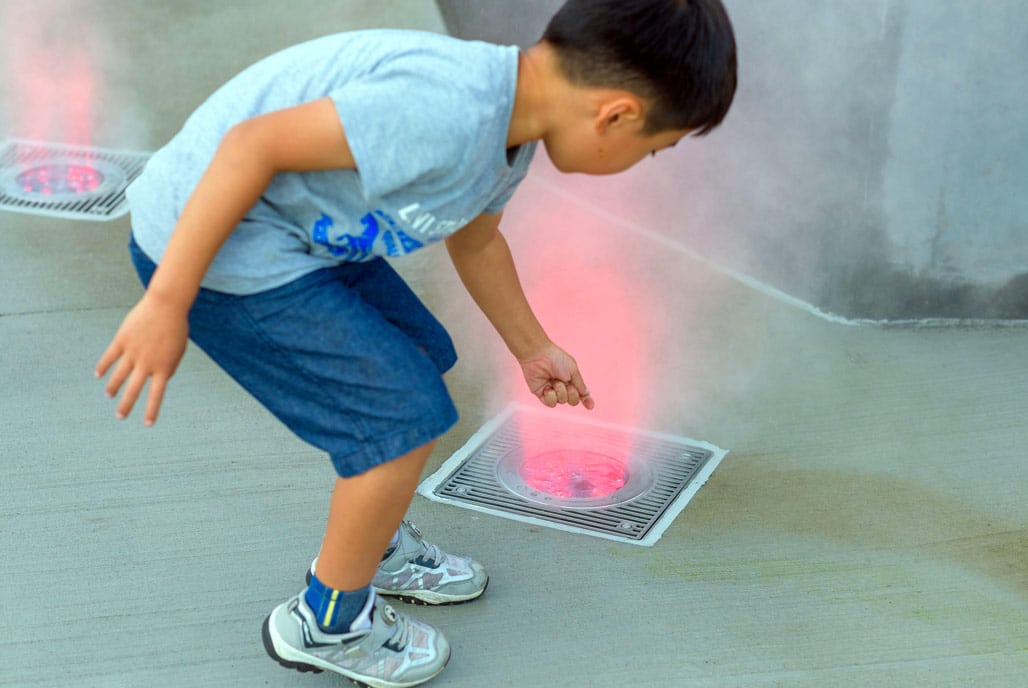 Discover the Transformative Power of Water Features
If you know you'd love to incorporate a fountain or another water feature into your next design, there's no better partner than the aquatic design and engineering experts at Soucy Aquatik. We've constructed nearly 300 architectural fountains and have over five decades of experience in the industry. Whether you're interested in something similar to one of these features or something completely different, the odds are we can make your dream water feature a reality!
For more information on all-things-aquatics from how to design a water feature to how to design a water supply system, get in touch with Soucy Aquatik today!
Get inspired for your next architectural fountain project!