How to coordinate the construction of a condo with a swimming pool
Are you considering installing a condo swimming pool? If so, it's smart to be informed about commercial pool construction before you begin. That way, you'll be able to make good decisions and make the most of your budget. Here's what you need to know about commercial swimming pool design.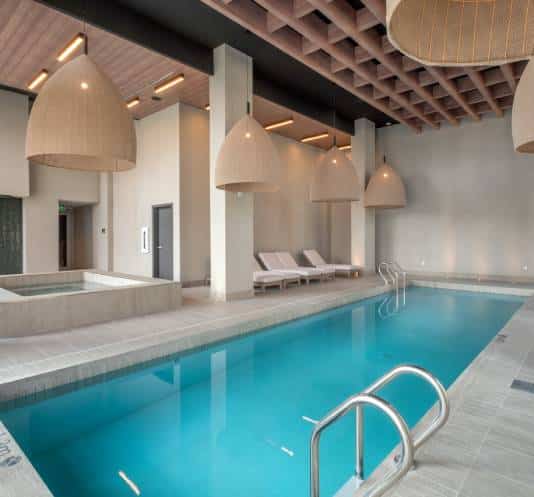 First, Determine Your Budget
Prior to beginning any actual work on installing your pool, you need to determine a budget. It should include all parts of the condo swimming pool installation process. Consider:
Cost of hiring contractors. You'll need to hire a pool contractor. Research the estimated cost for each company you're interested in.
Pool materials. This includes the shell, liners, finishes, pool lighting, and special features.
Landscaping, deck installation, and anything else you want as part of the pool area.
The average cost for commercial pool construction is around $150,000. More luxurious pools with special features such as a spa or hot tub may be closer to $200,000.
Understand What Type of Pool You Can Install
Not every design is going to work in the space that you have. For example, if you want a rooftop pool, it will be more expensive to build. Pouring concrete at high levels is challenging, but a stainless steel pool is pre-fabricated and brought in on a crane for installation. So, if you want a rooftop pool, you'll need to carefully consider whether it's possible for your building design and whether it's in your budget.
For successful installation, you need to consider the features that will be applicable to the size of your pool. If you have a smaller area to work with, it could potentially limit the features you can install.
Hire a Pool Contractor
General contractors can be helpful for overseeing and coordinating the entire project from the design to the installation. If you hire a general contractor, it is recommended that you work with them to find a pool contractor that can deliver a turnkey project. This pool contractor should be involved from the very beginning of the project.
Pool contractors are an absolute necessity that you can't ignore. Unless you're already an expert in commercial pool construction, you need to have a trusted pool contractor by your side throughout the process. Hiring a trusted pool contractor to deliver a turnkey project including the design and coordination, membrane, structure, mechanical, finishes and commissioning is important and it will make sure your pool is functional, safe, and successful.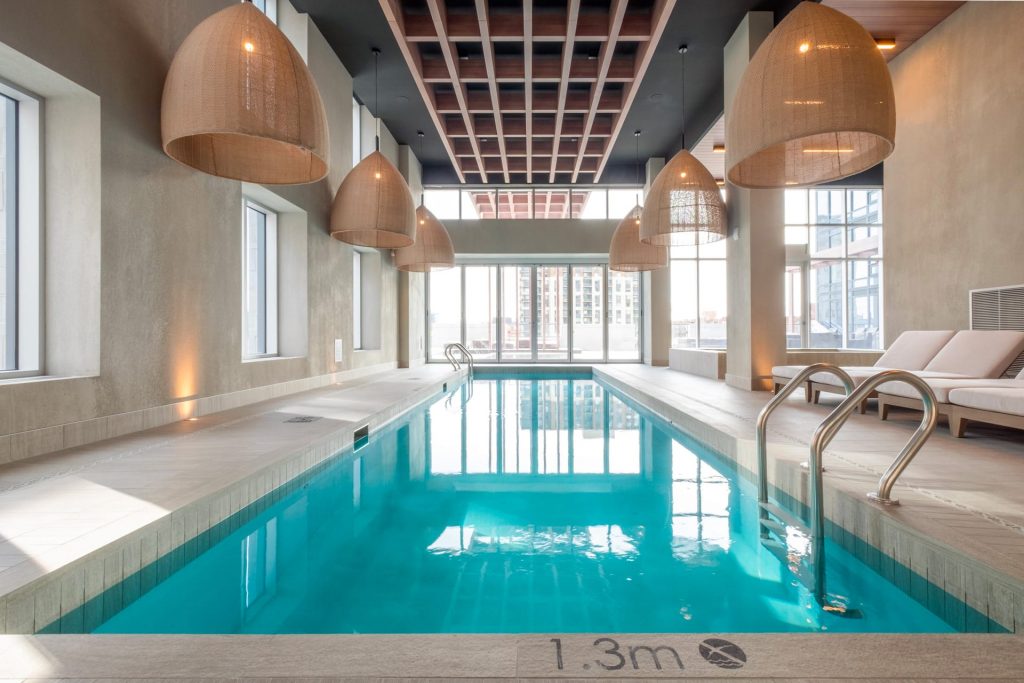 Condo Pool Design Ideas
Ultimately, you'll work with your pool contractor to create a commercial swimming pool design with all of the features you desire. However, it helps to have ideas ahead of time. Here are some of the design decisions you'll need to make.
Shape
You aren't limited to any particular pool shape. You may use a modification of popular pool shapes or go for a free form, undefined shape. Here are some popular shapes that you may look at for inspiration:
Kidney-shaped or figure-eight shaped pools, which have attractive curved sides and no sharp corners
Rectangles, which are ideal for smaller or narrower areas and lap swimming
L-shaped, which typically work best in larger areas and are great for sectioning off "play" areas from a deep end
Special Add-ons
Spas, hot tubs, jets, heaters, chair lifts, slides, and diving boards are common add-ons for commercial swimming pool construction. Not every add-on will be right for every design. Your pool contractor can help you coordinate your add-ons with other features, such as shape and depth.
Depth, Length, and Width
These features of your commercial swimming pool design are a mixture of personal preference and legal requirements. Certain pool features, such as diving boards or water slides, require a specific length, width, and depth. If you are not including special add-ons, you have much more flexibility with these design aspects.
Finishes and Coping
Finishes are the materials that are used for the surface of your pool. Common finishes include epoxy painting, aquaBRIGHT™ and ceramic tile. Coping is the shape of your finish. You'll be able to choose from options such as bullnose (a rounded edge), cantilever (a square edge), and rough cut, which creates an organic look.
General contractors may not always understand what finishes and coping are right for your commercial pool. Consulting with your pool contractor during this part of the design process is integral to ensuring that the pool's design meets your needs.
Plan to Prevent Leaks
To prevent leaks, the structure and design of your pool need to be perfect. Working with an experienced pool contractor will ensure that there's a solid plan in place to keep your new pool leak-free. You'll also need to have your pool in a sturdy location.
Constant upkeep will be required from the time the pool is complete. Regularly check for damages, cracks in the ground, and failed filtration. If the pool is located outdoors, specific winter preparation is also necessary to prevent leaks. This includes draining water from the pump, heater, and filter; lowering water levels; covering the pool; and adding the right chemicals.
Give Staff Proper Maintenance Training
One of the final and most important steps in coordinating your commercial pool construction is training your staff on maintenance procedures. Include your staff in every step of the process so that they understand the structure and build of your pool. Pool contractors can help train your staff on proper pool cleaning, safety features, and other maintenance.
Contact Soucy Aquatik for Your Condo Swimming Pool Construction
There are many complex, important parts to successfully coordinating swimming pool construction. Soucy Aquatik is the go-to expert on every part of your aquatic construction. Contact us to receive a quote and begin your consultation for a condo swimming pool!