Commercial Pools: How to Avoid Going Over Budget During the Construction Phase
Constructing a commercial pool is a massive undertaking. Without the proper preparation and expertise, it's easy to go over your budget. Here's how to plan a project so that the finished pool construction is everything you've been envisioning – without the excess cost.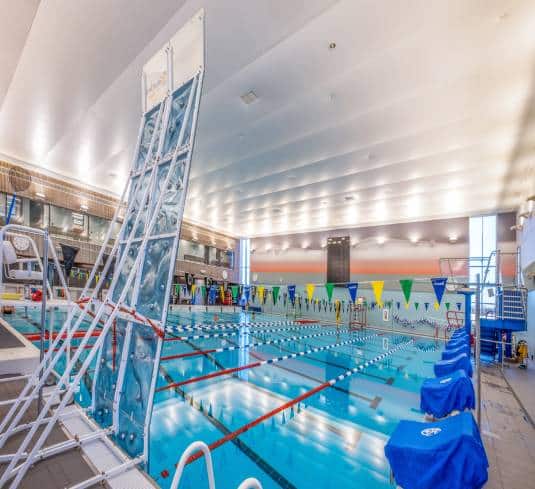 Start with Clear, Accurate Drawings of Your Commercial Pool Project
From the very beginning of the planning stage, you have to set yourself up for success. When it comes to commercial pools, it's the general contractor's responsibility to present the swimming pool contractor with a clear and accurate drawing of the pool. 3D drawings are the way to go because they will allow everyone to get on the same page.
When you can see the plan in three dimensions, it's easy to accurately comprehend the size and placement of every little detail. This stage is important because it gives everyone the chance to look at something very similar to the finished project before the actual work has begun. This is the time for adjustment.
While changes that are made later on may massively impact the final cost, changes to the pool's layout before construction begins won't be quite as detrimental to the budget. As long as everyone is in agreement with this plan, you should be able to keep surprise costs to a minimum.
Only Work with Professionals Who Specialize in Commercial Pools
Creating a commercial pool is not a task for just any designer or construction professional. It's vital that you hire a crew that specializes in commercial pools, both at the design level and the construction level. The quality of the end result will likely be superior, and every step of the process – from conception to execution –will go more smoothly.
Just as the proper plan and the right coordination is essential to constructing a commercial pool, you need the right person to design that plan. To get those clear, accurate designs (preferably in 3D), you need someone who specializes in designing commercial pools. Otherwise, changes may need to be made after they've drafted the design but before the construction has begun. This would mean more time and more money has to be spent before the pool comes to fruition.
When it comes to the construction, a company that has worked on many pools will have the expertise to provide an accurate quote and make sure they can follow through on the costs. In addition, a commercial pool contractor may have established contacts in the industry that could get them deals on certain materials and equipment. At the very least, an experienced pool contractor will know where they can buy materials that will keep them within budget.
While choosing an experienced design team and construction team for your commercial pool will help the process go smoothly and stay within budget, it's even better if you can have a single team that handles both the design and build. When you have fewer people involved, each stage of the commercial pool process is more consistent and there are fewer opportunities for unnecessary delays. When you get a quote, you can expect it to remain the same unless the client changes their mind about something.
How to Choose a Swimming Pool Contractor
So maybe you know that you should work with a contractor that's an expert in pool construction—but if you've never hired one before, you probably won't know what to look for. While you may be on a tight schedule, you won't want to rush the process of selecting your commercial pool contractor. Otherwise, you may regret your decision and end up with a contractor that does unsatisfactory work and/or goes significantly over budget.
Firstly, it's important to look at qualifications. The number of projects they've completed and their years of experience are both good qualifications to start with. Since there are also a wide variety of commercial pools, it's crucial that you make sure you are choosing a contractor that has worked on this specific type of pool. For example, a pool contractor that has only done spas in the past may not understand all the costs associated with a traditional inground pool. If you want the most accurate estimate, you want someone who has completed many pools like yours in the past.
A pool contractor is only as good as the work they've completed for their clients. Because of this, it's crucial that they can provide references. Of course, it's not enough to just have the names of references. You want to actually check up on them.
One thing to specifically look into when you're verifying a pool contractor's references is whether or not they stayed on budget. While a reference may say they approve of the quality of the contractor's work, it's possible the result was good but the process to get there was a little more costly than expected. You don't want to have to compromise on either when you're choosing the right pool contractor for your needs—and you shouldn't!
Cultivate Good Coordination Between Professionals
Even if you are able to construct your commercial pool with a single team for the design and build, you'll still end up having to coordinate with multiple professionals such as plumbers, carpenters, and electricians. Each of these professionals play an important role in the construction of a commercial pool. It's vital to have good communication and coordination with all these individuals to remain on schedule and on budget. Simple miscommunication could create delays and additional expenses.
While the general contractor will have their own plumbers, carpenters, and electricians, the commercial pool contractor will also have their own plumbers, carpenters, and electricians at their disposal. It's crucial for every person to work together to make sure the entire project (not just the pool) flows together seamlessly. For example, while the pool contractor's plumber will be responsible for the plumbing needs of the pool, it's important that they coordinate with the contractor's plumber who will work on the rest of the project. This will help avoid certain mistakes.
Any professional in construction will tell you that the number-one cause of unexpected costs are mistakes. So, when you're setting yourself up for fewer mistakes, you're setting the project up to stay on budget.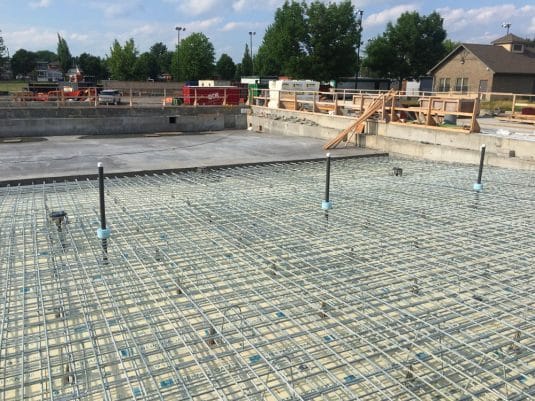 Trust Soucy Aquatik as Your Commercial Pool Contractor
When you keep all of these things in mind, you won't overspend on your commercial pool. Soucy Aquatik can provide both designing and building services to create the pool of any client's dreams. We can take any commercial pool project from conception to execution flawlessly while remaining on budget.
Because we can prepare 2D, 3D, and Revit drawings, you get the most detailed plans that help avoid any misunderstandings among professionals. When the architect or client uses Revit modelling, we have the opportunity to use BIM coordination to avoid any interference between all trades. This sets every project up for success!
With a portfolio of more than 1400 completed projects over the course of 50-plus years, we know a thing or two about commercial pools, to say the least. Check out some of our past work to ensure we're the right fit for your commercial pool construction. No matter what your budget is, we can work within those constraints and make recommendations on equipment and water features that fit. When you're ready to tell us more about your project, give us a call and we'll happily get started!